Animal and plant proteins, upon in vitro or in vivo digestion, have not only a nutritional role but are a rich source of bioactive peptides initially encrypted in the native protein sequences. The activities of these peptides range from antioxidant, antihypertensive or anti-obesity to antimicrobial or antitumoral.
To illustrate the diversity of food-derived active peptides and their possible benefits for health, in this short report I have compiled a few recent examples of peptides isolated from legumes. These plant seeds are essential in Mediterranean and Asian diets, as they are an excellent source of protein, fiber and minerals, and have recognized health advantages, including the production upon enzymatic digestion of bioactive peptides with both nutritional and therapeutic potential.
Selected examples include lunasin (anticancer), IAVPGEVA and VFVRN (hypocholesterolemic), FLV (anti-inflammatory), LSPGDVLVIPAGYPVAIK (antibiofilm) and NSLTLPILRYL (antioxidant and ACE inhibitor). Typical sources are soybean, faba and lima bean, lentil and chickpea hydrolysates.
Despite the high number of food-derived peptides already known and the increasing pharmacological data around them, the real incidence of these bioactive peptides on human health is mostly unexplored. Similarly, the use of these peptides as hits in drug discovery programs is still in its infancy, and will require the coordinated joint work of different research disciplines for future advancement.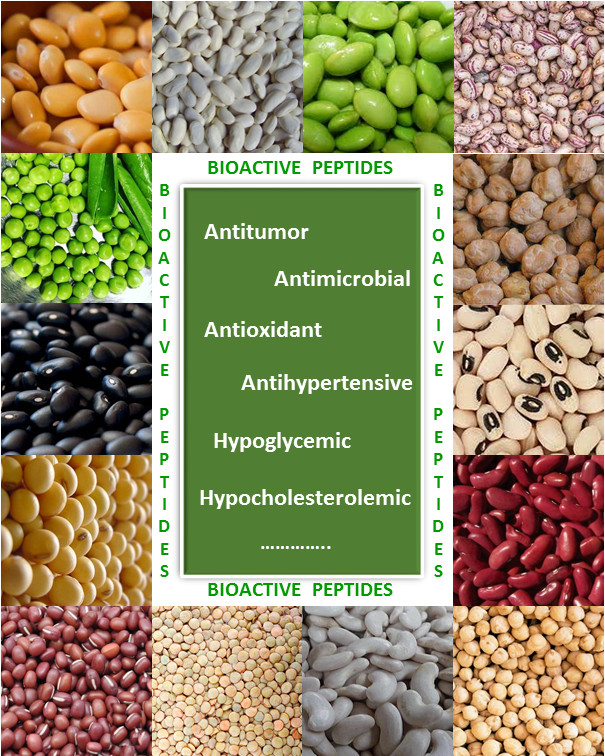 For more please download PDF file.
Contributed by Rosario González-Muñiz
Rosario is a Senior Researcher at the Medicinal Chemistry Institute (IQM-CSIC), Madrid. She is involved in peptides, secondary structure mimics and small-molecule peptidomimetics of application in biological/medicinal chemistry programs, especially related to the modulation of ion channels and associated proteins.