Enzymatic conjugation of peptides and their analogues to other peptides or proteins is considered to be an exciting field in protein chemistry. Besides Sortase A, Butelase and Transglutaminase, the field offers attractive possibilities with respect to its broad spectrum and simplicity. Nevertheless, certain issues such as the length of the peptide tag, sophisticated purification protocols to separate enzymes from the product and high amounts of enzymes used limit the scope of these approaches. In this commentary, I will give an overview on two recent methods to provide solutions for some of above limitations.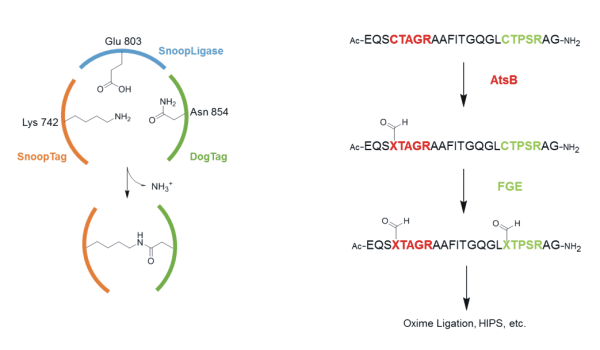 For more please download PDF file.
Contributed by Can Araman
Can Araman completed his PhD degree under the supervision of Prof. Christian Becker at the University of Vienna. During this period, he worked on the semisynthesis of prion protein variants carrying glycan mimics and investigated their biophysical/biochemical properties in vitro. Currently, he is working as a postdoctoral researcher at the Leiden Institute of Chemistry (Netherlands), Bioorganic Synthesis Division under the guidance of Dr. Sander van Kasteren. His research interests are directed towards to the study kinetics of antigen processing & presentation using bioorthogonal chemistry as well as semisynthesis of posttranslationally modified antigens.